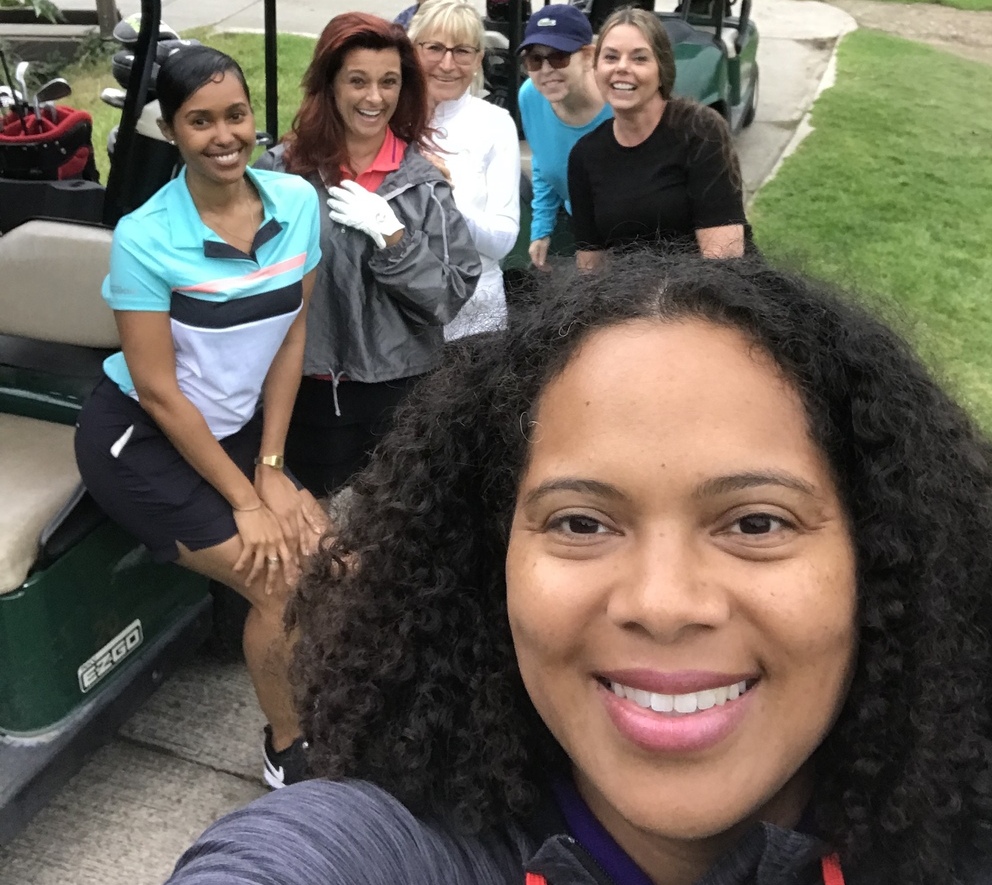 A Gateway to Informal Business Networks
A Catalyst study found that 46% of professional women feel that exclusion from networking that occurs outside the office is hindering their career advancement.  TiMaya Dickerson has found that becoming a 'golfer' has opened up some amazing opportunities at work.  Read her story.
As a new mom and partner at major consulting firm I understood when I returned to work that I would need to change my approach to managing client relationships, building my network and personal brand.  I also had a personal goal to set aside a few hours each week to do something just for me (preferably outdoors) and encourage other working mothers to do the same.  During my first month back at the office one of my coworkers invited me to a Women on Course golf experience.  My firm hosted 35 professional women, colleagues and clients.  As I watched the interaction and the caliber of women that were attracted to the game I decided that golf was going to be my thing!
With Women on Course, I saw a fantastic opportunity to knock out two things at the same time – spending time outside being with my thoughts and my body, while leveraging the game to grow my business network.  I met the founder and mentioned my personal place in life and the desire to augment the next phase of my personal and professional development.  She invited me to join. It's been 5 months since I've been back at work, my son is 11 months old, and my membership in WOC is paying dividends!
Now I own my own set of clubs and use them regularly.  I'm able to drive the ball off the tee and hit it straight!  I am also adept at hitting into sand and a few ponds as well.  I've been on the course and learning the rules of the game.  Most importantly I'm meeting fantastic women and hosting client events. It feels great encouraging women to get out if they are new, connecting those who are advanced and having a lot of fun along the way.
With the "guys at work" I'm now able to engage in new discussion topics and invite my colleagues and clients to golf.  Now that people know I golf, coworkers like telling me about their own game.  I've learned the most of them are admittedly less then exceptional golfers, so they welcome me into the club and are open to practicing together.  The highlight of my new "me time' game is that I will be hosting a woman executive leader at a PGA tournament next month.  We will be honorary observers following one of the players that my firm is sponsoring.  It's a special opportunity which I would have missed had I not taken up the game.  I tell my story to everyone I see because you have to start somewhere.  You don't have to be great and WOC is a safe and secure environment to grow my game, myself and my business.
TaMiya Dickerson has gone all in!  She is the Women on Course Market Leader in the Los Angeles area, and you are bound to meet her at a local event.  See what's coming up in Los Angeles.