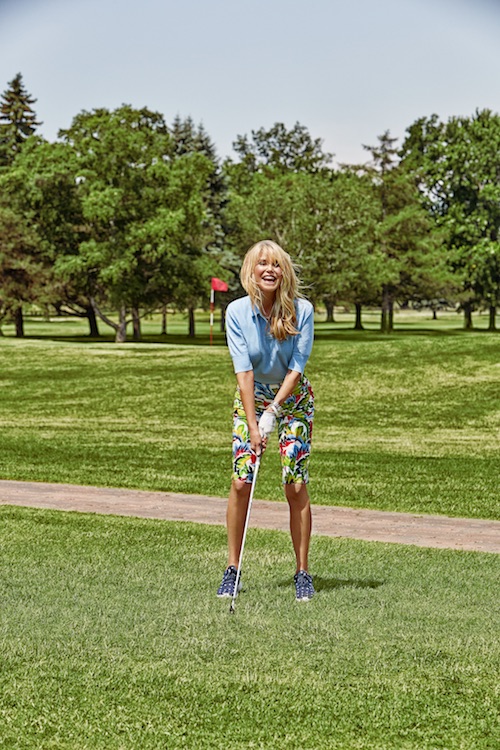 We asked our favorite golf fashion stylist, Jackie Sorrenti, owner of Gals on and off the Green, for some tips to look your best on the golf course.
Let's face it – in a world where fashion and its icons are in the news almost daily, and where over half of all ads and commercials are for the next must-have work out machines, miracle diet herbs or weight loss programs – losing weight and looking thinner are constantly on our radars!
Guess what? You can also feel a few pounds lighter with just the right look and a few of these simple fashion tips! 
Rule number one – too big is too bad
When we gain a few pounds or are in that ever-too-frequent mindset of feeling like we need to lose weight, we tend to buy oversized or extra roomy clothes. Contrary to conventional thinking that "covering something up" will help hide the flaws -oversized, ill-fitting clothes actually make us look bigger!
We are not saying wear your clothes too tight.  We are simply saying that you add extra pounds when you wear your clothes too big!   A tailored, trim fit is always more flattering and slimming.
Go solo
A monochromatic look (head to toe in one color) always helps us look thinner!  Wearing the same color on top and bottom simply creates the illusion of being slightly taller and slightly more lean. And don't just think black –  wearing solid navy, light pink or turquoise colors for example, on both the top and bottom, creates the same taller and thinner illusion as black! 
The skinny on wider waistbands
We work with countless women who believe they should tuck in their shirts and also wear a narrow belt, to help draw attention to a smaller waistline. While this might accentuate your smaller waist, in reality, it emphasizes your tummy area- no matter how trim!
Instead of wearing bottoms that button and zip at your natural waist, choose flat front bottoms with a wider waist band – about three to five inches – that sit just below your natural waist line. (Note: we are not suggesting a low rise fit – rather, just a fit right below your natural waist.) This widens and flattens the tummy "pooch" and creates a cleaner overall look at the midsection. Additionally, many updated bottom styles offer pull-on, stretch fabrics (no button and zipper) with a light weight tummy control panel that provides just a little extra confidence on and off the course!
To shape or not to shape – there is no question!
There is such great shapewear in the market today. From products that help firm and smooth our hips, tummy and waist –  to products that help smooth the back and bra straps – we can all look a little more firm and smooth.  The trick is to be sure to buy the proper size. While slimming our tummies or thighs, we do not want to create unsightly "muffin-top"!  It defeats the entire purpose of smoothing, and it is simply the result of a slimming product that is too small.
Accessorize to maximize
Stylish hats, visors, gloves and shoes draw attention away from your silhouette.  A solid bright hat or visor embellished with an interesting ball marker will draw attention to your face and away from your body.  Similarly, a smart looking glove in a unique color or pattern will also distract eyes away from any "trouble zones."  Have fun with accessories – they really do the trick!
How you dress and how you look impacts how you feel about yourself, and how you feel about yourself impacts how you perform throughout your day!
Visit Gals on and off the Green for great golf and casual wear, including tummy control bottoms and accessories.  at shop.galsonandoffthegreen.com.