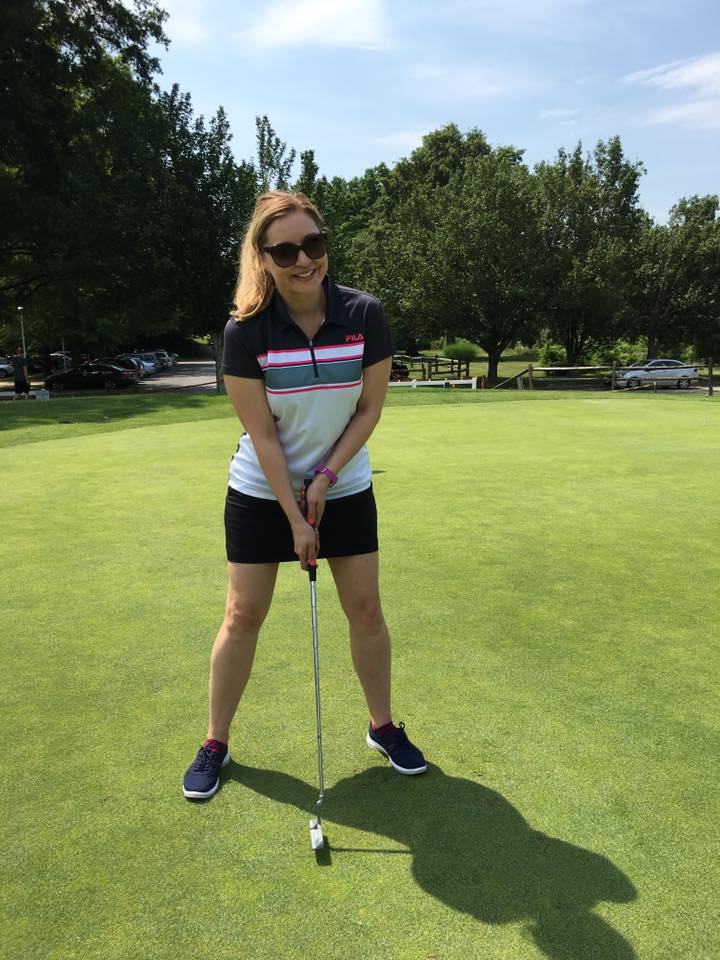 I grew up in a family of golfers, my dad, brother and uncles loved to hit the links.  They encouraged me to be become the next junior golfer. "Golf isn't just for men," they said, "Girls are the next future of golf, and they even have pink golf clubs."  In the 80's none of that resonated for me. Like most 12 year old's going on 25, I was more concerned with hanging out with my friends. The only iron I was interested in was one that curled my hair and occasionally burned my forehead.
In 1996 Tiger Woods and I both turned 22.  While Tiger was going pro and destined to become the youngest player to win the Masters, I was in a dorm room playing a card game called Golf.  Whoever had the lowest score won and the losers had to sip the difference.  Needless to say we weren't exactly playing the same game, but that didn't mean that it wasn't preparing me for the future.
After nearly two decades of never thinking about golf, my 15 year career in marketing and public relations led me to an  opportunity in the golf field. While I knew little about the sport, I was up for the challenge.   To prepare for my interview I spent the next week learning everything I could about golf and all it had to offer. I was amazed at how many cool, non-traditional and women-specific offerings were available. And don't even get me started on the golf outfits!  Maybe my dad was on to something.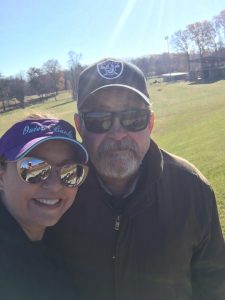 I headed out on interview day wearing my sportiest dress, sold my marketing and communications skills, promised to become a golfer and nailed my interview.  Low and behold, me, a WOMAN, who had never golfed in her life, earned the position of Golf Marketing Specialist for the Fairfax County Park Authority.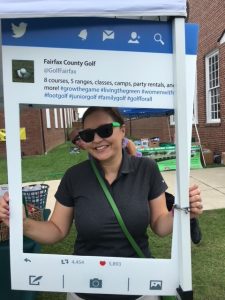 I was on a mission (on and off the course), to introduce as many new faces as I could to this lifelong sport, and dispel the myths that it is only for a certain age, demographic or income bracket.  I was eager to grow the number of juniors and women and promote the benefits like staying fit, being social, spending time with family and friends and being part of a community.
Enter Women on Course, the concept of introducing thousands of women to the golf lifestyle by highlighting the social, business and fitness benefits of the game was music to my ears. It reinforced everything I'd been preaching about for the past year!
I worked diligently to network with Donna Hoffman, to not only get our seven courses on the schedule, but to also become a Women on Course member and experience first-hand how this group was changing the face of golf forever. Once Donna and I linked up it was a match made in heaven (pun intended)!
I attended my first WOC Swing with Style Signature Event and participated in the fashion show.   I walked away feeling a part of something really special. The mix of socializing, networking and connecting with such dynamic, influential, diverse, strong and overall amazing women, was par for my life course. After a long week at the office, I count down the hours to the next Nine is Fine, Sip & Swing, Success Series or golf social. (see college really did prepare me!)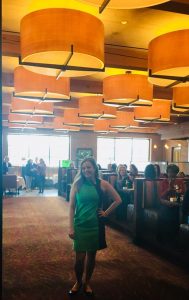 It would be understatement to say that golf has changed my life. Golf IS my life. I eat, live and breathe the sport. I'm obsessed with playing, improving, and being involved, I've became a walking advertisement for family, friends and anyone who listen to me speak the golf gospel.
Women on Course has given me a voice and network of like-minded women that I can connect with not only about golf but about family, business, travel, style, food and life. I've met so many diverse women of all ages and backgrounds, lawyers, nurses, entrepreneurs, retirees, stay at home moms, bus drivers, civil servants, you name it.  We all share a similar interest  and enjoy the much needed time to relax, reflect and rejoice.
I am living proof that golf can begin at any age, you CAN learn the game, you ARE good enough to get on the course, you DON'T have to keep score, and you WILL meet awesome new friends, get better and have fun.  And if all else fails there is always the 19th hole!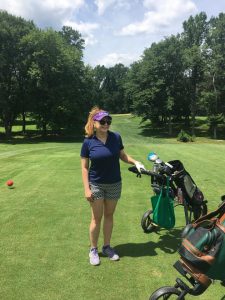 You may meet Roberta at any of our WOC events scheduled at a Fairfax County, VA golf course.  Visit our Washington DC event page for a list of organized events.