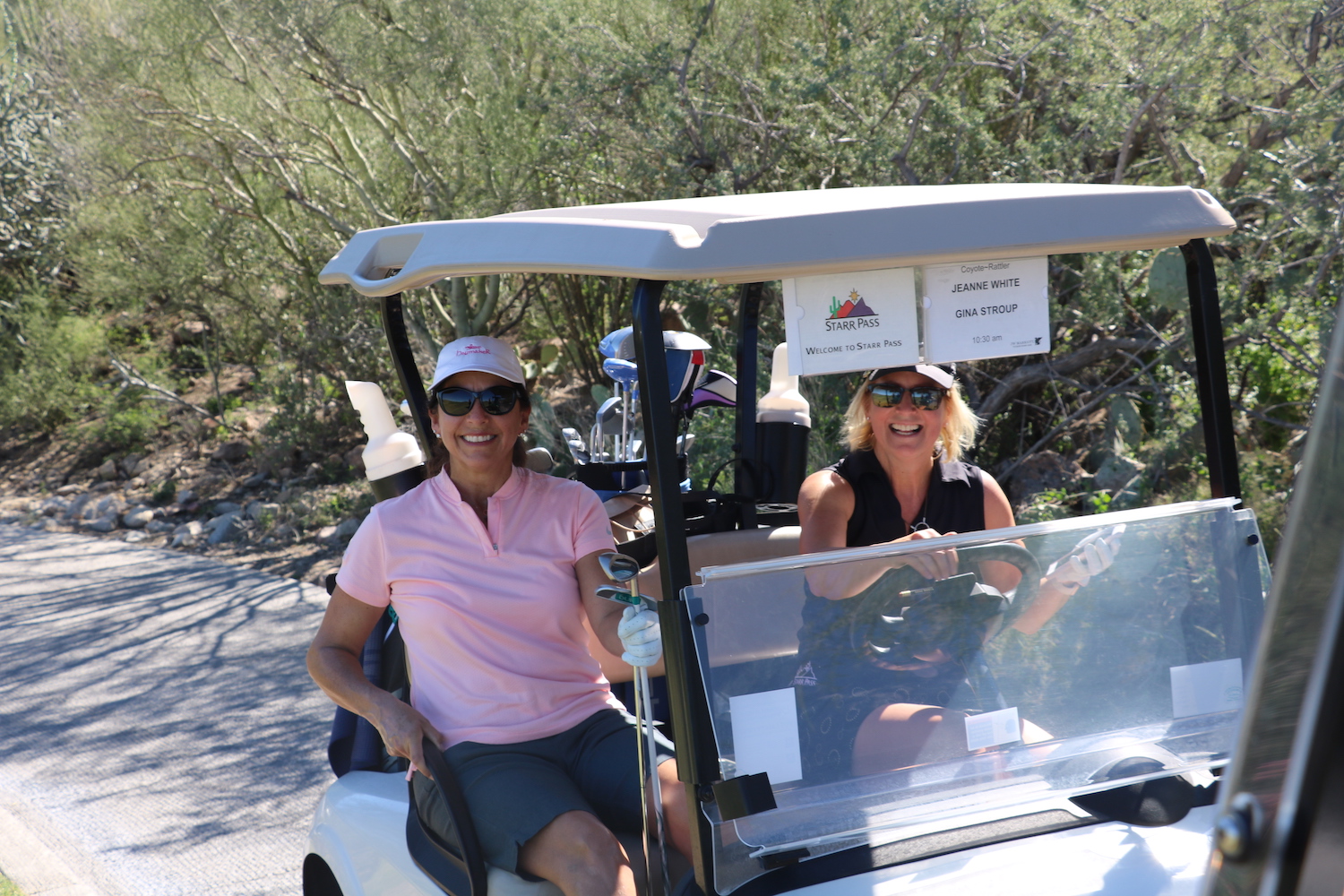 No Fear Corporate Outing
Ask the women in your office to play in a corporate outing and you'll hear all the common responses: "I don't play, but I'll drive the beer cart," "Sorry, I have too much work on my plate," "Oh, you don't want me, I'm horrible."  You may even hear the "F" word – FEAR.
We've all heard the golf course is where the boys are – forming alliances and deals outside the office.  So how do we overcome our intimidation and join in? It's simple – know what to expect and what is expected from you.
Before you sign on the dotted line to participate, even as a volunteer, understand what you're getting into.  The golf course has its own culture, lingo, dress code and rules.  And assuming you are adequately equipped, dressed and well-practiced, it's good to know what makes a corporate outing more than a casual round with friends.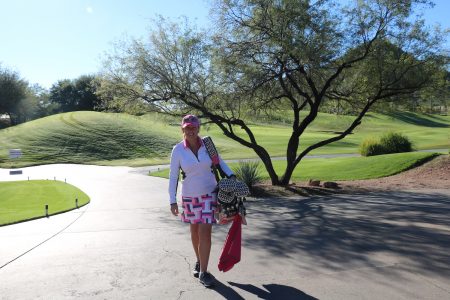 Look the Part
It pays to invest in the game. When you're giving a business presentation, chances are you're not in your casual Friday clothes carrying a battered laptop case.  The same holds true as you prepare for your corporate golf outing.  Think about trading in your hand-me-down clubs for newer technology.  You'll even boost your game as well!  Leave the khaki shorts and polo shirt for another day. Invest in a statement golf dress.  Or try a tailored outfit designed for the sport. You'll be surprised at how good looking and comfortable you can be!
Is a Handicap Required?
A handicap is an equalizing system, which allows players of varying abilities to compete with each other.  Many tournaments will require you to have a handicap to participate so they can put teams together and make it fair.  For outings that require handicaps, be prepared to encounter more competitive players – great prizes or prestige could be at stake!  To establish a handicap, a player will need to track a number of golf scores with a club that uses the USGA Handicapping System.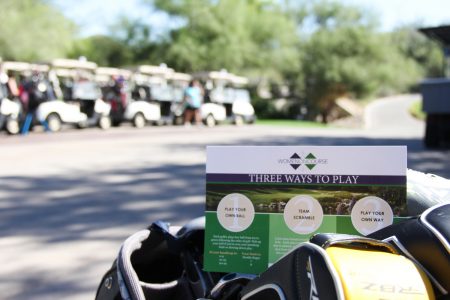 Play the format
Ask what format the outing will follow and try to play a practice round with your golf buddies.  Teams are usually assigned as 2 or 4 players, and are usually paired by the organizers. Sometimes teams are requested in advance.  Don't take for granted you will be paired with your officemates unless you ask.  Listed here are some of the more common formats. Slight variations are always possible.
Scramble. The scramble team is the most common format for corporate and charity outings because it is generally most comfortable for all skill levels. All players tee off from their respective boxes. The team will select the ball in the best position to take the next shot. Sometimes the rules will require a minimum number of tee shots selected from each player so be sure you are comfortable with your driver. For the second shot, each player in the group will hit from the location of the best tee shot. From this position, place your ball one club distance away, but no closer to the hole. Play continues in this fashion until the ball is holed.
Best Ball. Often confused with a scramble, this is another team format where each player plays their own ball where it lands from tee to green throughout the round. The best score of the group for each hole is the one recorded as the team score.
Stroke Play. In this format, the total number of strokes for the round determines the winner. Scores are recorded as a 'gross' score – the actual number of strokes taken in a round and can also be calculated as a 'net' score – the actual number of strokes taken in a round adjusted for a players handicap.
Skins. This is a hole-by-hole competition where each hole is won by the lowest score. As with stroke play, scores can be tracked both as a gross and net score if handicaps are factored in. The player with the most holes won at the end of the round is the winner.
Know the Lingo
Golf has it's own language and it's a good idea to brush up on common terms you may hear in relation to a corporate or charity outing.
Shotgun Start. Each team will be assigned a starting hole so everyone can start playing at the same time.  Typically your cart will have a sign with your name and the starting hole number.  You may see an A or B after your number, which would indicate two groups are starting on the same hole, with group A going first.
Mulligan. A mulligan is a second chance to hit the ball and the first shot is not counted in your score.  Mulligans are not allowed under the rules of golf, but often used in friendly matches.  At charity outings you will often see mulligan's for sale with the proceeds going towards a charity.
Closest to the Pin. A common contest on par 3 holes, all tee shots that land on the green are measured to the flagstick.  At the end of the day, the player whose ball lands closest to the tee wins.
Longest Drive. Another contest generally played on par 5 holes.  A prize is awarded for the shot that is hit the longest distance off the tee box.  In mixed events there is generally a prize for shots off the forward box (women) and one from another box (men).
Knowing what to expect is usually what we need to feel more comfortable.  Next time everyone in the office is gearing up for a company outing, be a part of the fun.  Get out your clubs and don't be afraid to play!