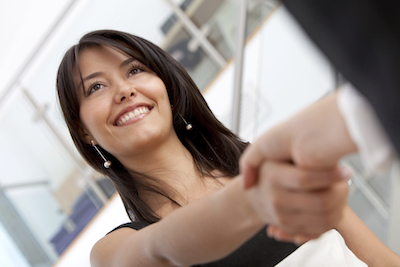 "Wow! I didn't realize how many different groups I was a part of."
"I'm not sure if I'm networking correctly."
"I don't feel like I receive as much as I put into my networking."
These were some of the candid comments shared at the Women On Course Success Series in Northern Virginia.  The result of the workshop was a reality check of whether the room of 75 women were networking wisely.
Most realized they needed to take a step back, re-evaluate and proceed again. Review of how the group did, resulted in the following grades:
"A" for effort on getting out and making the rounds.
"B's" and "C's" on connecting in a way that was meaningful and memorable.
Mostly "F's" on follow up and follow through.
The goal of business networking is working to cast a wider net to grow your business, or grow in business. Some people seem to be more natural at it than others. But anyone can network and have their network work for them.
Let's look at those grades and how we can improve our networking.
Making the rounds
Networking is a part of business, and most of the group felt good about the amount of networking they were doing. However, in diving a bit deeper we quickly uncovered that in making the rounds there was little preparation, outside of knowing the date, time and location, before heading into the crowd.
This is where the A could become an A+. Knowing a few simple things like:
What is the mission of the group?
What is the format of the meeting?
How many people will be in attendance?
Who will be in attendance?
Who do I want to connect with?
What organizations will be represented?
Preparation will make the time spent out networking more worth the while and generate a greater return on your investment.
Meaningful and memorable connections
Preparation doesn't end with "knowing before going". If you want to make a meaningful and memorable connection, consider the following in your future networking:
Quality over quantity – the whirling dervish of firing off business cards, like a machine gun fires rounds, may make you memorable in a, "Wow, that person is shallow." sort of way. Instead, focus on the handful of interesting individuals you looked up before the event or observe when you are attending the event.
Authentic CuriosityTM – Diving beyond surface conversation with thoughtful questions and extraordinary listening. Not just the usual, "What do you do?" but, "How did you come into this business?" "What about this work excites you?" "How do you see yourself and your company impacting others?" People will find you far more engaging and truly interested in them on a deeper level.
Deliver a perfect pitch – Turns out we have a hard time describing ourselves and our business in a way that is interesting and connects with the other person. This topic is a blog in and of itself but, for the sake of keeping it simple; practice your pitch on those you know well. Get their feedback and revise as needed. Practice again and see how those in the networking group respond to your revision. Repeat.
Follow Up and Follow Through
Follow up continues the "meaningful and memorable" of what you delivered at the networking event. When asked, "Do you put time on your calendar to properly follow up after a networking event?" Most of the women at the Women On Course workshop stated they do not. If something is a "hot lead" then that prompts follow up but it pretty much ended there.
All that networking preparation followed by flawless execution of meaningful and memorable connections will be for not, if timely follow up fails to occur.
When putting a networking event on the calendar there should be three calendar entries: preparation, the event itself and follow up.
It is my hope that these simple, yet effective tips, will help you make the grade in business networking.
By Tina Fox, Creator of the Success Series and Chair of Women on Course.  Success Series workshops are launching in Washington DC, Philadelphia and Boston.  Join us for a dynamic afternoon!