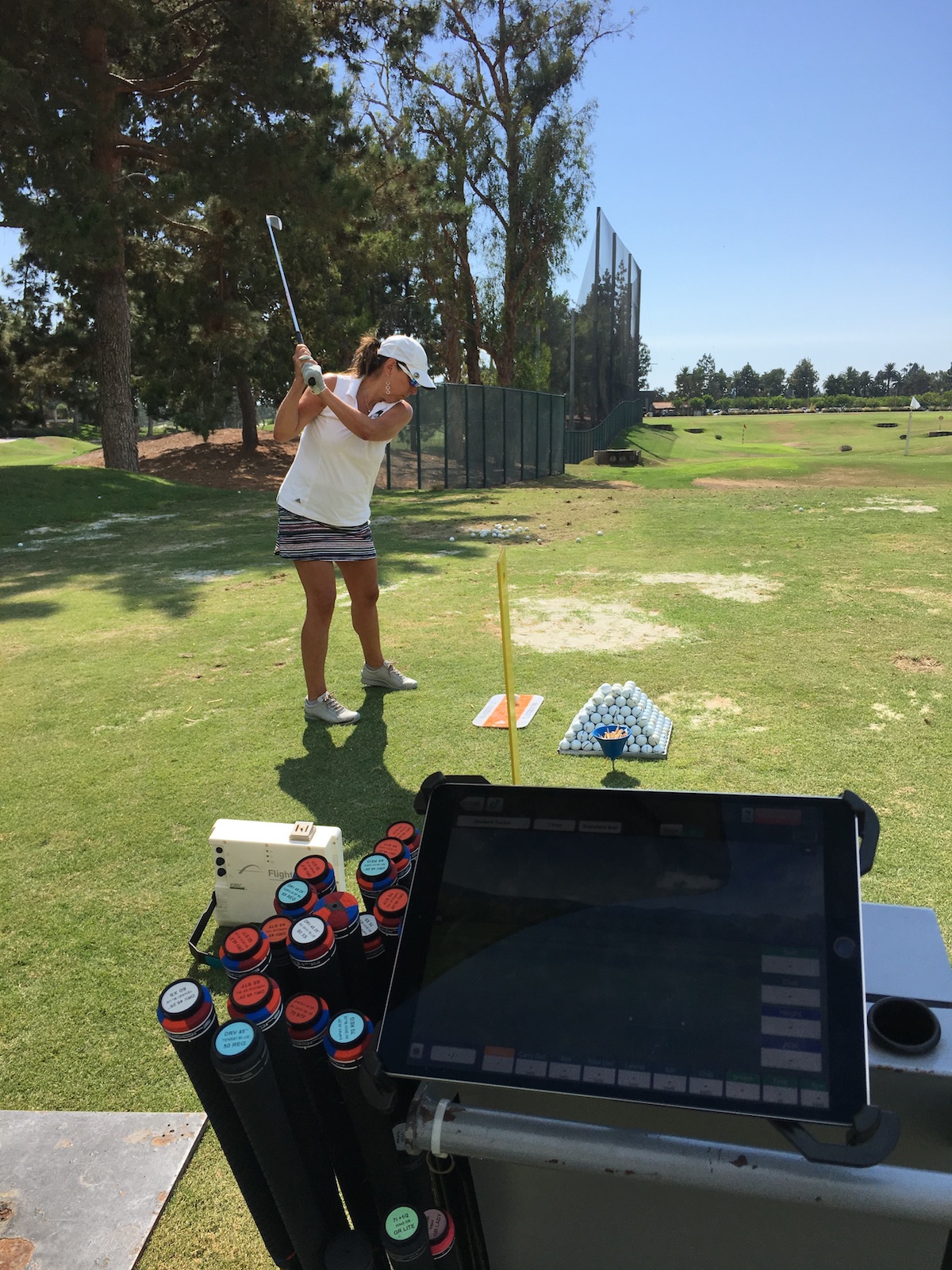 We asked one of our favorite golf professionals, Karen Tucker, LPGA, PGA who leads Women on Course clinics in Orange County, CA, to explain why getting a 'Club Fitting' is good for your game.
In a given week I'll see one out of five women show up for their golf lesson with borrowed or out-of-date golf equipment.  It's not surprising that many drop the game when they find themselves frustrated and losing interest from poor results, or even suffering pain.  As a golf professional and club-fitter at Tustin Ranch Golf Club, I'm invested in my students improvement and golf goals.  When looking to purchase golf equipment, I recommend a club fitting with a golf professional to find the clubs that sound, feel, look and make the most sense for your game. 
Take my student Jill for example.  She came to her first golf lesson dressed in fabulous golf attire with a beautiful designer golf bag, however is was full of steel shafted, 10 year old, thin bladed irons.  I was instantly skeptical whether her skill level would send the ball flying without the help of newer technology.  After evaluating her swing, it was obvious to me the irons were too heavy for her to maintain balance or consistent shot making.  The shaft was too stiff, contributing to lower ball flight, and the club-head did not offer a forgiving, larger sweet spot, as the wider cavity back heads do now.  After a short discussion on the importance of properly fit equipment, she was open-minded to trying clubs that would help her hit more efficiently.  
Jill was thrilled after a few swings with different equipment when she saw her ball fly higher and further.  She was relieved that her ability was not as bad as she thought – just a change in equipment improved her game and enjoyment.  Instead of unnecessary golf lessons trying to make her old equipment work, Jill and I can now work on different aspects of her game to bring down her scores and add confidence to her overall abilities.  

Why Is A Club Fitting Important
Playing with clubs that fit your body type, swing speed and skill level will greatly increase your performance.  The technology behind golf equipment design has greatly changed over the years to produce more distance, feel and consistency.  Regardless of your level of play, a club fitting is important to check your current equipment against what's available in the market, or realize that you can benefit from adding a missing club to your bag.
Who Should Get a Club Fitting
As a new golfer, it's not necessary to run out and buy a set of clubs right away, but you do want to learn with rentals that reflect current technology and are appropriately sized for your body type.  Most golf instructors will provide clubs suited for beginners with your lessons.  Once you decide you like the game, you can get fitted for clubs for your very first set.  Regular players will benefit from periodic fittings as new club technology can improve their game and enjoyment.
When to Get a Club Fitting
Every golfer can benefit from checking their equipment on an annual basis.  Hitting your friend's new equipment (if they let you) is very common and a great way to see what's available in the market.  Accomplished golfers may look at segments of their game, like putting or 50 yard shots, and consider the benefits of changing out a wedge or putter.  The same can be said for your mid range and full swing game evaluating your irons, woods, hybrids and driver as part of improving  your overall game.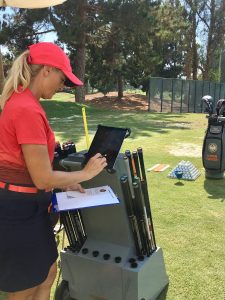 What Happens at a Club Fitting
Come dressed and ready to swing a club!  During a club fitting, a golf professional will run through a check list of needs to see how your equipment measures up to current products in the market.   We compare different brands and look at the following components as you swing and strike the ball.
Club-head design:  We consider which is more forgiving, has the best feel and produces the most ball flight control.
Length of the club and lie angle: Creating the most accurate ability to hit the center of the club face, produce the most desirable ball flight and maintain a consistent interaction with the ground to avoid thin and fat shots.
Shaft flexibility: We measure and compare the golfers attack speed, club-head speed and ball speed to see what shaft flexibility is the best fit.  ie.  Light flex, Senior flex, A-Flex's, Mid-flex, Regular flex, Stiff Flex or Extra Stiff flex.  (so many options!)
Grip:  We look at the size, feel and style
Ball flight: Compare desired results between the various clubs
Consider budget, order time, and color options if available.
Your input in this process plays an important role to acheive a good fit for your future game.  For example, if your hands are hurting when you practice, that tells your golf professional that a change to a softer grip may create immediate comfort for you.  As you can imagine, there are many options and customizations available.  Your desires matter through this process, so find someone you feel comfortable communicating what's important to you.  A good club fitter will take into consideration your budget, visual appeal and how you approach the game as well as the feel when striking the ball.