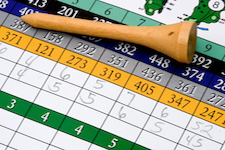 Handicap service for California and Virginia members 
Women on Course members in California and Virginia may establish and track an official USGA handicap for a cost of $40. In the state of California your account is based on an annual basis starting on the day you sign up. In the state of Virginia your account is based on the calendar year. Accounts are facilitated by your state golf association.
Why do I need a handicap?
The most common reason to establish a handicap is to enter golf competitions and tournaments. Handicaps may be required for country club outings or professional tournaments where prize money is at stake. Even in fun rounds between friends, handicaps are used to create well matched teams and equalize scores between players.
Perhaps an even better reason to establish a handicap is to track your own progress with the game. The handicap calculation factors in the difficulty of the courses you play. Monitoring your success solely using your gross score may not accurately indicate that you're improving, especially if you're playing harder courses. Handicap systems not only track overall score, but number of putts, tee shots that land in the fairway and other aspects of the game you are working to improve.
How to establish a handicap
In order for a golf handicap to be official, it typically has to be obtained through a club or organization licensed by the United States Golf Association (USGA).  Women on Course is a recognized club in California and Virginia.  A minimum of five scores is required to get started.  You may track scores either by completing 9 or 18 hole rounds. 
When posting scores for your handicap, enter the date of your round, your gross score, the course rating, and the slope rating for the golf course you played.  The rating and slope numbers can be found on the scorecard, though some handicap systems allow you to look up the information in their course database.
To establish a handicap account, JOIN WOC and add the handicap service when completing your online application form.