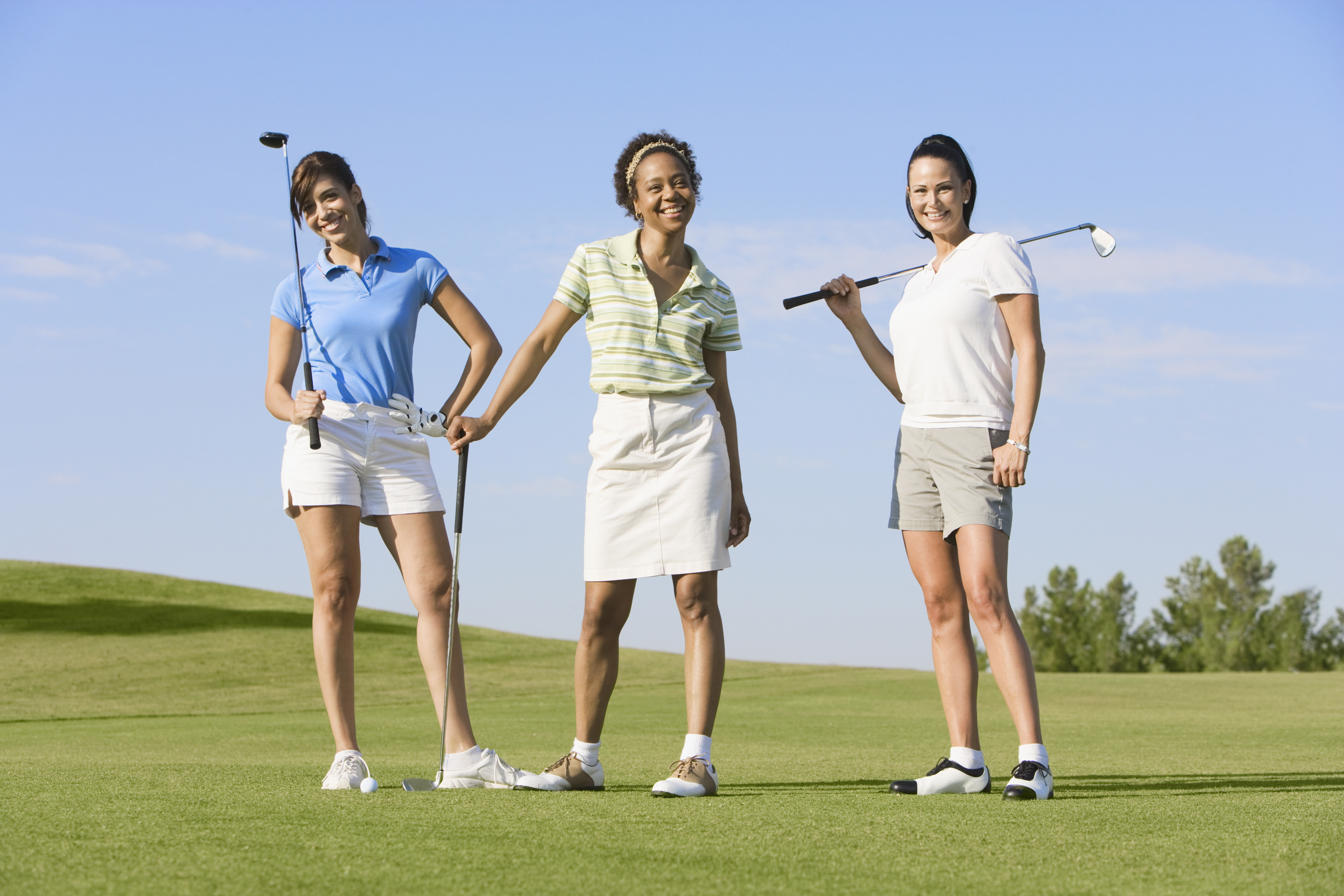 Are You Course Ready?
You've hit buckets of balls, and taken some lessons, but when are you 'good enough' to play on a golf course?"
There is no magic skill level or test to pass to automatically advance to the golf course.  I've heard long time players describe themselves as horrible, yet they play the game on a regular basis.  If these women judged themselves based solely on how well they hit the ball, they would be stuck on the driving range forever.  'Good enough' takes on a whole new meaning when you look beyond skill level to measure course readiness.
I believe if you can meet the general expectations of the golf course, your fellow golfers and yourself, you can be ready to hit the links in a very short time – and have fun as well!
What does the golf course expect from you? Golf courses dedicate a lot of resources to create a playable experience. They expect you to do your part to maintain the conditions they work hard to establish. At the first tee, a starter will typically be stationed to review some of the specific rules for their course, with a reminder to play at a good pace of play. Course ready players are familiar with universal items such as:
Arrive on the tee box 10 minutes before your tee time.
Dress in proper attire and have a set of clubs.
Understand where carts may be driven and where they're forbidden.
Know how to repair divots.
Raking sand traps is your responsibility.
Remember to protect the putting green surface and replace the flag.
What do fellow golfers expect from you? Golfers show up in all shapes and sizes and their styles of play are just as diverse. Temperaments and attitudes can range from pin drop quiet as serious golfers play to win, to players that don't keep score and make frequent beer cart stops.  Regardless of skill, most golfers expect to find courteous players who respect and practice golf etiquette. Here are a few rules to follow.
Remain quiet and still during another player's turn.
When it's your turn, BE READY.  Be near your ball with your club of choice in hand.
Limit your pre-shot routine to 20 seconds.
After taking ONE 'real' swing your turn is over, no matter where the ball may go – or not go.  The golf course is not the place to work on your swing.
Be self sufficient.  Golfers are mostly concerned about one thing – their own game.  Unless you're with a mentor, constant questions about what club to use or how to make the ball go up in air, will not be well received. Save those questions for the driving range.
On the putting green, be mindful not to step on a players line and mark your ball
What to expect from yourself? Many new golfers will experience a set back as they transition from hitting ball after ball on the range to switching clubs and navigating varied course conditions. Take lessons from a golf professional and work towards the following.
Master the basics of each golf technique (full swing, chipping and pitching, sand shots and putting) so you can advance your ball from the tee to green.
Get comfortable with a few clubs in your bag and have an idea how far they each go.
Practice your swing until you achieve solid ball contact more times than not.
Set yourself up for success! Golf is a game that can be played and enjoyed on many levels. To experience the game with confidence and enjoy moments of glory, let your group know you plan to play your own way. You'll find most golfers supportive and they'll appreciate your effort to keep the pace of play moving.
Play Your Own Way – Here are some ways that may make the game more fun for you while you learn. Choose one of more of these tips or come up with your own.
Trouble on the tee box?  Create your own tee box and start at the 150 yard marker.
Should you land in the sand or other trouble area, place your ball back onto the fairway.
Getting frustrated, tired, lazy or bored? Sit out a hole and help out your group.  Look for lost balls, pull the flag, locate the yardage markers or flag down the beverage cart!
Place your ball on a tee in the fairway to make it easier to get the ball in the air.
If your ball is the furthest one back, move it to where the best ball is positioned and take your next shot from there.
Always pick up your ball after 8 to 10 shots or less if you're taking up too much time.
Play 5 shot golf.  On each hole, take one tee shot, one fairway shot, one chip shot and two putts. Either play the ball where it lands or position the ball where you like. You'll experience the full range of shots, keep up with the group and end up with a really great score!
Let Women on Course get you course ready in less time than a work week with FastTrack to the First Tee – our unique online program  to get you ready for the next corporate outing or a day on the course with friends.