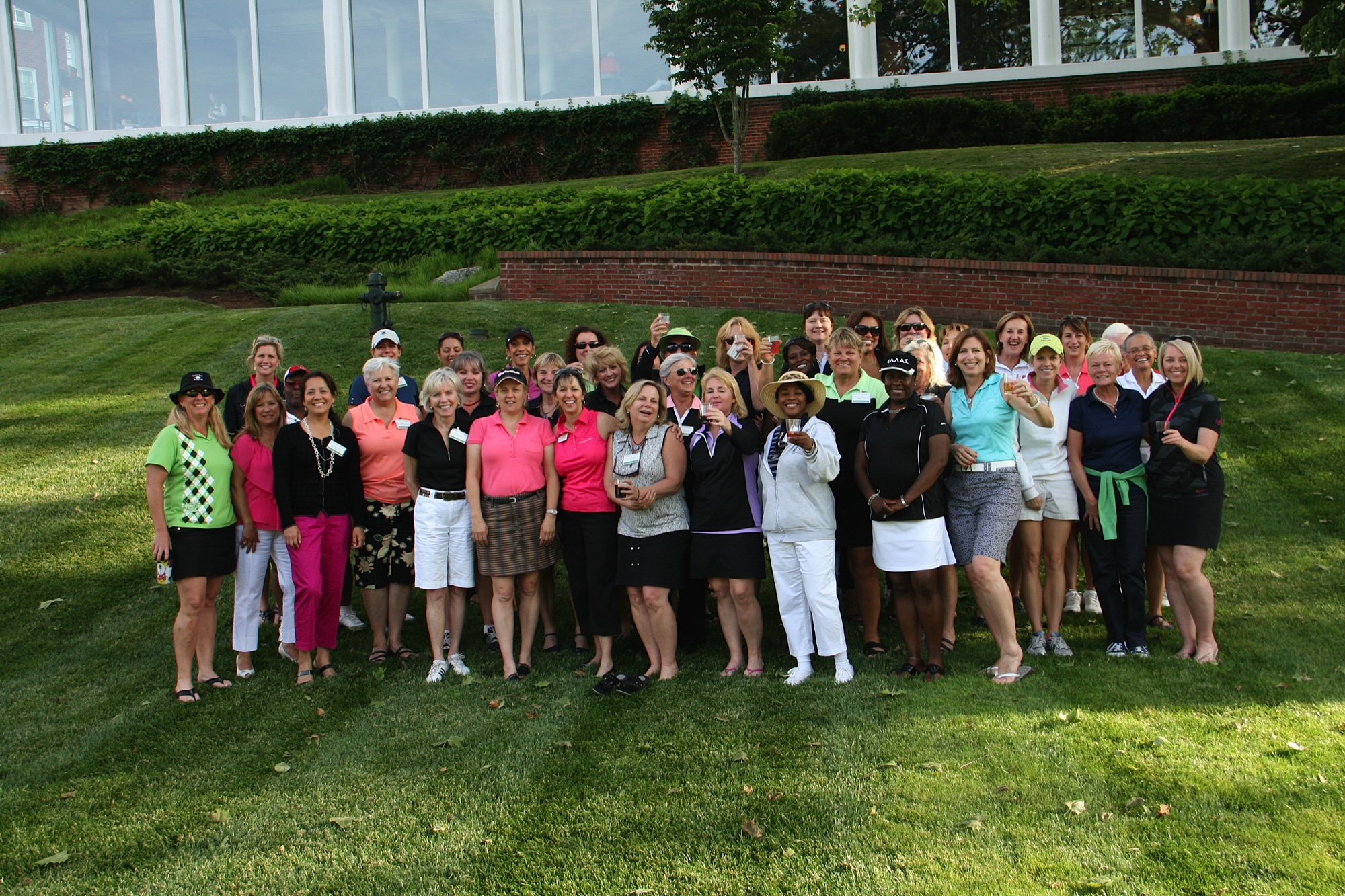 101 Reasons Why Women Play Golf
At a recent Signature Golf Event we passed the microphone around the room.  Each person explained why she was interested in learning and playing golf. Most answers were what you'd expect, "for business", "to meet new friends" "to play with a husband." Then we came to a successful young lawyer who flatly stated, "I am good at everything I do. I'm here to give golf one more chance.  If I can't hit the ball well every time I swing, then I give up!"
That got everyone thinking. If we could just hit the sweet spot every time we took a swing, wouldn't that be fun? Think of all the prizes you could win at company outings, or maybe land a spot on Big Break or the US Women's Open! What is it about golf that keeps millions of women coming back? Why do we come back the next weekend and play a round again – especially when we don't have a consistently perfect swing (which, by the way, is the majority of us)?
Here's our list of the 101 reasons why women play golf.  Perhaps you have your own to add!
Nothing beats the feeling of a well struck shot
To find something good in every round played
A glass of wine at the 19thhole
To post a score better than the week before
Create a new identity for yourself
Physical exercise
Feeling of accomplishment
Make new friends
Chance to invest in some great accessories
Meet potential clients
Develop integrity
To see the 'real' side of your new boyfriend
Laugh with friends over 'interesting' shots
Learn how to calm  our nerves
Enjoy the plants, flowers, and trees
Appreciate a sport that has been around for over 400 years
Spend time with your husband
Learn how to deal with frustration and disappointment
Teach your kids etiquette
Foster your patience
Get away from the stress of life
Focus on something challenging
Travel to a new part of town
Learn a new sport
Feel a sense of belonging
Learn how to stay positive when things go poorly
Try lot's of cool gadgets
Participate when small talk turns to golf
Meet the man of your dreams
Build a new wardrobe
Learn not take yourself so seriously
One of the few places you can drink and drive
Develop some muscle and improve flexibility
The rush of being 'in the zone'
Discover new shops and restaurants at different golf clubs
Another activity to do on vacation
To learn about someone you'd like to hire
Wear the logo of courses you've played
To impress the men with a really nice drive
Learn how to gamble
A reason to buy more shoes
Learn the rules of golf
Learn when to play it safe and when to take risks
Practice thinking strategically
To play within your own game and achieve your personal best
Entertain your clients
Buy a foursome and contribute to charity
Hang around with classy people
Help others learn the game
Create opportunities for youth
Spend quality time with your parents
Have some solitary time on the practice range
Try something new and different
Go back to something you gave up when you had young children
Learn to visualize
Practice letting go of the past
The eternal hope of making a hole-in-one
Add new golf jokes to your repertoire
Practice positive self-talk
Learn how to develop mental strategies and think under pressure
Spend time with the family doing something active
Play in a Pro Am
Appreciate the wind and the rain
Learn how to commit to decisions and accept the results
Be part of a team
To break into the old boys club
To start a new girls club
Learn how to break through self-improvement barriers
Have a motivation to stay in shape
Play in your annual company golf outing
Develop concentration
Experience excitement when you sink a 20 foot putt
Get used to public performance – on the first tee
Learn anger management
Know the difference between a bogie and a birdie
Practice goal setting
Walk 18 holes for exercise
Watch your ball fly over the water and land on the green
Master your body movements
To develop a routine and stick to it
Compete in a tournament and win really great prizes
Be outdoors and commune with nature
Establish a handicap and watch it improve
To start a hobby you can do for the rest of your life
Volunteer at  a golf tournament
Learn various formats of competition
Achieve balance in life
Reciprocate a favor
Take some fun photos
Open up new career opportunities
Experience winning
An alternative to book club and bunko as an all girl activity
Experience the joy of blasting out of sand
Improve your posture
Understand the lure of watching golf on TV
Overcome your fear of failure
Learn how to judge distance
Keep your mind in the present
Learn how to focus on a target
Learn to accept what you get – bad lies and bounces – and give your best no matter what
For fun and enjoyment!
Join our fun and welcoming environment at Women on Course to learn and play the game.  Sign up for our mailing list to learn about events near you.